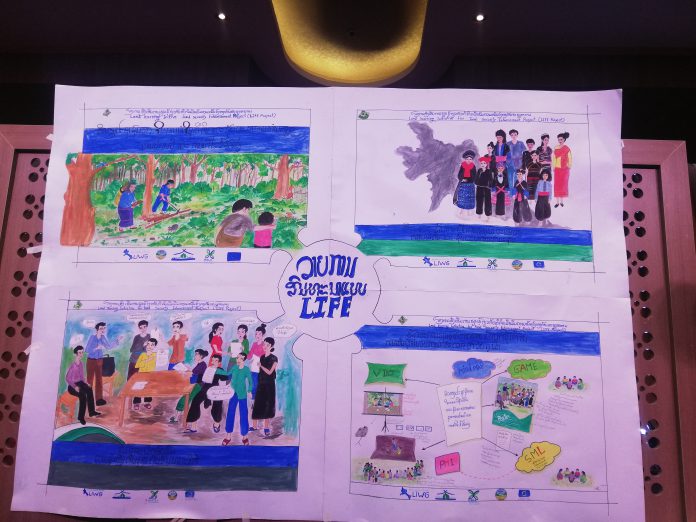 Source: Vientiane Times, 4th December 2019
Land Learning Initiative for Food Security Enhancement (LIFE) project will continue enhancing the capacity of local farmers and authorities to allow them to make more informed decisions on the protection and use of their land.
Representatives of the LIFE project and its development partners last week convened a Community of Practice Meeting (CoP) to share lessons learnt from the project over the previous few years and to exchange experiences and ideas to shape the 2nd Phase from 2019-2021.
Speaking at the opening of the CoP, LIFE Steering Committee Member, Mr Rick Reece said that since the project was launched in Laos in 2014, it has been supporting training to give a legal background in land governance and land rights.
As the project continues its second phase this year with funding from the European Union (EU) for a period of 3 years until end of 2021, Mr Reece said it planned to reach 750 persons from civil society, 550 from the Lao government, 50 from the private sector and 1,200 villagers directly through LIFE training and more than 20,000 villagers through multiplied training from partners.
To achieve its goals, the LIFE project will focus on group work and discuss how partners can participate and what still has to be improved as well as which topics are interesting for the partners for curriculum development.
A representative of the EU, Mr Ignacio Oliver-Cruz, said support for land and natural resources management was very relevant for development. Accordingly, enhancing land tenure security for smallholder family farmers and communities was also crucial.
Various land tenure issues including conflicts, disputes, land grabs and concessions continue to occur and often affect the most vulnerable.
Consequently, sound land governance is crucial for the development of Laos, which is the second least densely populated country in Asia, with a majority of the population rural and with increased pressure from large neighbouring countries with high demographic density.
The link between natural resource management, the rule of law and human rights is crucial. As such, improving land tenure security through effective registration and titling must go hand-in-hand with improving access to information and justice, improved land taxation, improved land use planning and land concession and lease management.
Mr Oliver-Cruz pointed out that proper land administration, including securing of peoples' land tenure rights, could be a win-win situation, as it helped improve livelihoods and reduce poverty while allowing for better investment conditions for both local and international investors.
Proper land administration can also be self-sustaining through increased land revenues from fees and taxes.